It's a new year and I am so appreciative of my clients and vendors from this last year to make it really spectacular.
We did a ton of fun things – here are some of my favorites!
New Website & Branding – oodles of thanks to Doodle Dog Advertising and Waxpaper Designs
New Products – Hello Custom Calligraphy stamps!

New Advertising with some of our favorite on-line brands – many thanks for your support: Elizabeth Anne Designs, The Sweetest Occasion, Wedding Chicks, 100 Layer Cake, Style Me Pretty
New Fonts – Mitty and Talia are our most popular and we are predicting that Zanner will be the it font for this year

Launched our first Holiday card series.
Partnered up with some amazing vendors to put on some amazing events: The Crescent Hotel/Junior League of Dallas Fundraiser; ThirdSpace/Thanksgiving on Main, The Crescent Hotel/Gingerbread Decorating Party, After Yes + Catie Ronquillo/ inspired design, Waxpaper/ Unveiled Events, Paper & Chocolate/ Partners Card, Jordan Payne Events + The Joule Hotel/ Bridal Brunch
Featured work in some of our favorite publications: D Weddings, Modern Luxury Dallas Brides, Brides of North Texas, Style Me Pretty, Elizabeth Anne Designs, Oh So Beautiful Paper, The Sweetest Occasion, The Wedding Party Studio, Studio Wed Atlanta and Donnie Brown Weddings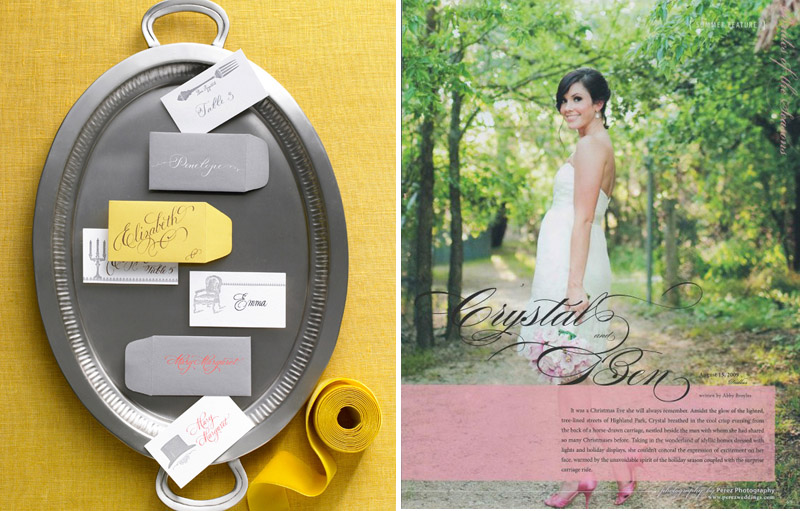 and…. working with our fabulous, chic, modern, fun and beautiful brides who make it so worth it every day. 
photos by Thisbe Grace & Perez Photography
Thank you, Thank you, Thank you!