I had to learn how to write on macarons last valentines day and thought I would share what I learned with you!  So this will be the first of a few "how to" posts I have planned for the year.  Hope you enjoy!
HOW TO WRITE ON MACARON:
1. Gather your supplies.  You will need: Fresh Macaron cookies, Gloves, clean fine tipped brush (not one you use with calligraphy ink!), icing color – I used the Wilton brand you can find at any craft store, a little bit of clean water, plate or wax paper, steady hand.
2. Plate a bit of your ink and test.  Not all ink works the best.  You can see in the photo above that I have a marker, some gel edible ink and then pots of ink.  I found that I like the pots of ink the best for the bold coverage I wanted.  Sometimes you also need to mix a drop of water (and I do mean 1 drop) with the icing color to make it flow on your brush for calligraphy. I liked the brush the best to not crack the delicate shell of the cookie.
3. Keep your cookies in the refrigerator until you are ready to write on them.  I cycled through about 10 at a time to keep them chilled and not spoil or go soft on me. (I'm not wearing a glove in this photo because I had already cleaned up and forgot to take an "in progress shot" – but please do wear gloves if you are serving to people for consumption).
4. Use a very light touch to work on the cookie shell.  They can easily be punched through and that is an expensive mistake.  I love the way the brush turned out better than the marker.  You can use this method with any color and mix custom colors with the little pots of ink.
Also, I would like to note – this is a small surface area, it is more impactful to keep the design simple.  One word or 2 with some capitals mixed in with your calligraphy is definitely the way to go.  It was tough to fit all this on the little cookies.
5. I allowed my calligraphy to dry for 2 hours after writing on the macaron.  This helped prevent the "ink" from transferring from one cookie to the other when stacked.
6. Serve and watch people be in awe of your amazing work.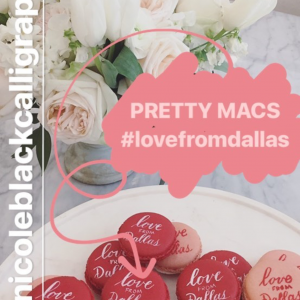 Hope you enjoyed this little how to.  I have a few more planned throughout the year so keep checking back in and creating with calligraphy.  Also, I'm still figuring out how to get a video on my blog… but until then, I do have a short video on my instagram of me writing these so you can see it all in action.  Thanks!