Calligraphy Supplies You Need
The Basic Supplies Introduction
When I first started as a calligrapher, I had the most basic calligraphy supplies you need.  Really, they are all you need.  Paper, a pen holder, nibs, and ink.
Mine were not quality supplies and I wish someone had guided my search for better supplies without all the trial and error spending I did.
This was before social media was big and shopping on-line was not as common.  It's both easier and more difficult to find supplies since everything is available on-line.  Also, most true art stores with those supplies have closed and things are not as easy to inspect in person before buying.
Now, you can put together a good calligraphy starter kit on your own with ease.
Calligraphy Supplies – Paper
Paper is the first of the calligraphy supplies I would get.  You want a paper that is going to hold up to the ink and not bleed.  This means the paper needs to have a tight weave and the appropriate amount of sizing in it.
I like this laser paper for every day practice.  It can stand up to some bad habits and isn't too expensive.
Calligraphy paper that is smooth to write on is a must.  Also, you don't want it being too fibrous and chance picking up those fibers with your pen. When I really want to practice and get great results, I always use my Rhodia or Claire-Fontaine paper.  These are a dream to write on with regards to smoothness and lack of ink bleed.
Additionally, I use the Rhodia for all of my digital work.
Visit: How to Digitize Calligraphy to learn more about the tools and process I use for that.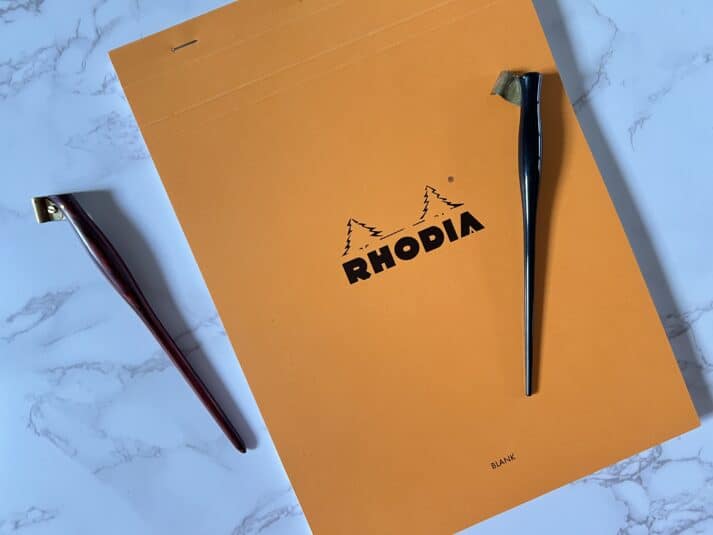 Calligraphy Supplies – Pen Holder
Being a left-handed calligrapher, this calligraphy supply is important.  I use the exact same pen holder as right-handed calligraphers!  There are many options here for your calligraphy supplies though.  Some are inexpensive and some pen holders can be very expensive.
I truly use one of the least expensive oblique pen-holders around.  It is plastic and sturdy and for me, just the right size.  I like the metal flange to fit my nibs just right.  This is a pen holder that I have multiple of (6) to fit the different nibs I use.
I also really like this wood one from Paper Ink Arts.  And while I have some other more expensive pen holders – these are the ones I pick up the most for writing 8 hours a day.
You can get pen-holders in plastic, wood, acrylic, metal.  All are great.  My recommendation is to get something that is lightweight to prevent fatigue.  Also, if you have arthritic hands, a wider staff (the solid part) is best to prevent an excessively tight grip.
Another great option for the left-handed calligrapher is a straight pen holder.  This does not have the extra bent piece (flange) at the top and sets up your hand to be straight in-line with your writing.  I also use this holder depending on the script I am working with.
The nice thing about these straight pen holders is the flange can fit different nibs without adjustments needed.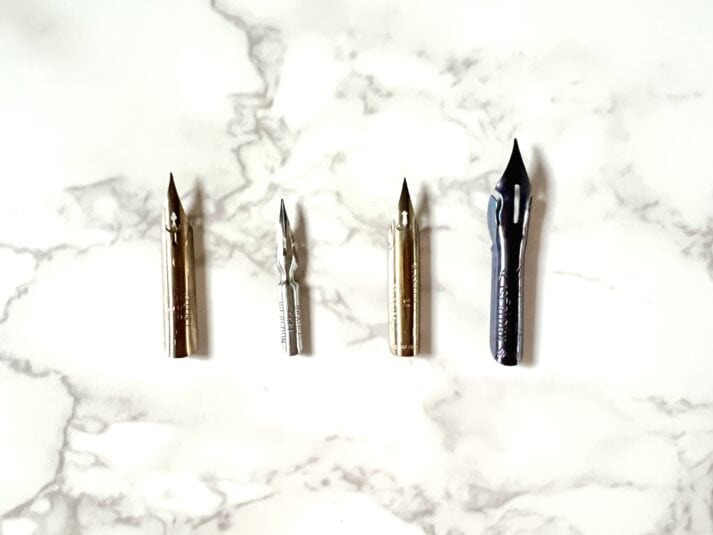 Calligraphy Supplies – Nibs
The nib is the part of the pen that holds the ink and puts the ink on paper.  It has a pointy tip for copperplate calligraphy. (or a flat edge for italic calligraphy).  Personally, I like a flexible nib and my top picks are always the Leonardt principal or the Hunt 101.  Both available from Paper Ink Arts.
I know the Blue Pumpkin is nice because it has a less sharp point and it a bit easier for beginners to pick  up right away.  Also, the Nikko G is viewed as a beginner friendly nib because it's a bit stiff and can handle the pressure used.
Personally, I don't ever use the Nikko G just because it was not available when I was starting and I had to learn how to use the lightest touch from the beginning.  This nib just doesn't give me the swells I like because of my light touch.
Calligraphy Supplies – Ink
Ink is another major factor in purchasing your calligraphy supplies. The right ink will make or break you.
My recommendation is to start off with 2 inks, a nice black sumi.  This is a quality ink and will not bleed on quality paper. Next, I would use a walnut ink.  When I think about the calligraphy supplies that are useful in the beginning, they always help me improve.  I like the walnut ink because it shows each stroke and where the ink pools since it has a transparency to it.
Of course, colors are fun and you can get pre-made acrylic ink or gold ink.  I love working with these.  But, when building a calligraphy starter kit, stick to the basics.
Other Calligraphy Supplies
It is easy to go crazy buying calligraphy supplies in the beginning (or middle!).  There are a few more tools that I consider essential. If you want to see all the supplies I use and recommend, check out my Amazon List Here.
Ruler – Yes, now I have all the rulers.  However, when thinking about a calligraphy starter kit, the ruler I find most essential is the c-thru ruler in the 2 inch width.  While I have about 10 of these in multiples and different lengths, this is my most used.  Want to see the other rulers I have and love?  Check out my Amazon Storefront here.
Pencil – This is the most underrated tool in the beginner calligraphy supply kit.  You can practice, line paper and measure with a pencil.  It helps teach pressure and release.  I prefer a mechanical because sharpening is messy.
Eraser – The humble eraser is necessary for fixing mistakes and cleaning up guidelines.  My preference is the plastic eraser.  But I also keep a kneaded eraser on hand for less eraser dust.
Red Pencil – Similarly, the red pencil is essential for making corrections.
Writing Blotter – The blotter is a great cushion for your writing.  It helps keep your pressure correct and
Quality Cleaning Rag – You don't want fibers catching on your nib.  It took me awhile, but I finally found what I like for my calligraphy supply kit.
Light – Finally, working under quality lighting is really the only way to practice.  I use a task lamp that is on the daylight spectrum.  It doesn't flicker and it's LED so it's lasted forever.
Conclusion
In conclusion, creating a calligraphy starter kit is simple and requires minimum items.  You can go crazy buying calligraphy supplies.  It's fun and colorful and helps make art!  But, I hope this list of the essential quality calligraphy supplies helps you keep your initial investment at a minimum until you decided what YOU like.
Want more?  Visit these posts that dive deeper into the options for calligraphy supplies:
Paper for Calligraphy