12 Best Calligraphy Books
While learning on the internet is now common, we used to learn from physical books purchased or from the library.  When I was a beginning calligrapher before the age of the internet, I went to the library to learn.  Since then, I still purchase the best calligraphy books to keep in my personal library and to study from.
Here I'm going to share the best calligraphy books to learn from.  Also, I'm going to include some calligraphy business books as well as general art books that have aided in the progression of my calligraphy skills.
Educational Calligraphy Books
Mastering Copperplate Calligraphy: A Step-by-Step Manual – Eleanor Winters
I keep this in my own library and refer back to it annually as a basics refresher.  Winters does an excellent job of presenting the basics of a traditional copperplate calligraphy hand.
The Art of Cursive Penmanship – Michael Sull
Sull is a living legend in the world of calligraphy and he produces some of the best calligraphy books.  This is truly a manual on cursive penmanship.  Discussing posture and position and tools as well as the method of writing.  This book also provides a bit on flourishing for the intermediate to advanced calligrapher.  Again this is a calligraphy book that I pick up on the regular to study from.
Spencerian Cursive Copybook – Platt Rogers Spencer
While a thinner book, Platt Rogers Spencer has covered so much ground in his Spencerian Cursive Copy book that really makes this one of the best calligraphy books available.  The presentation is simple and visual making it easy to follow.
This is considered one of the best calligraphy books available because it is both informational and inspirational.  Some of the best calligraphers in the world contribute art to the guide each year making it a current manual.  I have several editions and love to visit it to refresh my memory on some of those broad pen hands that I don't practice often.
The Universal Penman – George Bickham
While this is not an informational guide, I love the inspiration in The Universal Penman.  Bickham was a skilled engraver and he gathered some of the best work of his time to reproduce in this book.  I mostly use this for when I'm searching for flourishing or layout designs.  It's a wonderful calligraphy reference book to have in your library.
Learning To Write Spencerian Script – Michael Sull
Another excellent calligraphy book presented by Sull.  While I love and practice copperplate most of the time, Spencerian is so timeless and elegant.  This is a book I visit often when I'm picking spencerian up again.  It's a thin volume and has just the right information to follow along and correct the shapes.
This is a gorgeous calligraphy book by Tamblyn.  It falls more in the cursive and spencerian category. As a left-handed calligrapher, I love that the spiral is bound to the top. I also like that each lesson is bite sized so I can make small improvements to my learning.  This was one of the first books I purchased and I still consider it to be one of the best calligraphy books available.
Mastering Modern Calligraphy – Molly Suber Thorpe
Molly has put her heart in to this book on modern calligraphy.  Not as easy as it might seem, much of modern calligraphy is based on the traditional forms.  Molly helps teach the reader how to successfully create a script that is bouncy and light but still legible.
Business Best Calligraphy Books
An essential for any person starting their own artistic business.  The Graphic Artists Guild Handbook was one of my first purchases when I began my business 17 years ago and I will never regret the updates either.  They are the industry standard on pricing and this book has helped me license my art and be paid fairly for commissions where I was unfamiliar with the pricing before I created a quote.
The Calligraphers Business Handbook – Molly Suber Thorpe
Molly did it again by creating one of the best calligraphy books available.  If you are going to start a business, you need know what industry pricing is like in order to place appropriate value on your work and not undervalue the work of others.  While the book is a bit outdated in regards to pricing (the edition is from 2017), the principals are sound and it's a great resource for beginning calligraphers.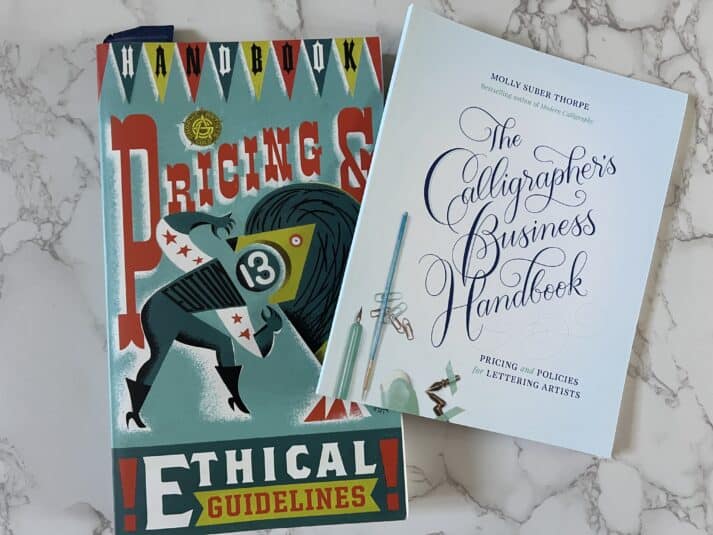 Etiquette Calligraphy Books
Emily Post's Etiquette – Lizzie Post
Calligraphy is an art based in tradition.  Many of our commission requests are also based in tradition from weddings and social events to custom artwork.  Knowing etiquette is essential to the calligrapher.
Crane's Wedding Blue Book – Crane & Co.
Wedding stationery is filled with tradition and etiquette.  Having this reference guide available has saved me numerous times.  In my mind it is one of the best calligraphy books because of it's usefulness in my business.  I get calls all the time from stationers, brides and mothers asking what the proper way to address something is and I always have the answer because I have the right reference material.
I'll admit, my library is filled with etiquette books.  These two are my most grabbed but I have an entire shelf in my studio dedicated to etiquette.  Perhaps the study of subjects other than calligraphy form has made my knowledge and expertise with weddings highly sought after.
Conclusion
There are many books available to study calligraphy.  In a few years my list of the best calligraphy books might vary slightly.  I know that I left off many resources available by excellent teachers.  I probably have a copy of the book even!  Another place to find the best calligraphy books out now is Paper Ink Arts.
Want to know more recommendations on calligraphy supplies?  Visit my Amazon Storefront for all of my supplies or read these other posts!
Tech Tools for a Calligrapher