Not a bad deal.  Spend $60.00 on a partners card and receive 20% discount at 750 Dallas retailers.  Oh and a major bonus – the money goes directly to the Family Place.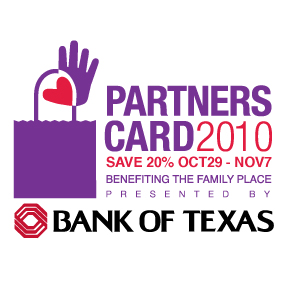 Get one either from a committee member, Tom Thumb, participating retailer or from the web site The cost is $60 and is good from October 29 through November 7.
I will be participating in a Trunk Show with Paper and Chocolate at Inwood Village on Friday, October 29 with in store demonstrations from 1:00-4:00 pm.  Come out an place  a well timed order on your invitations or just say hello!