Many months ago I was lucky enough to work Libby from byrd & bleecker (who is wonderful!) on a table scape charity event for KinderFrog's in Fort Worth hosted by the Kappa Kappa Gamma Sorority.
The theme was red, white and byrd and Libby did an amazing job. Here are the photos I borrowed from her blog.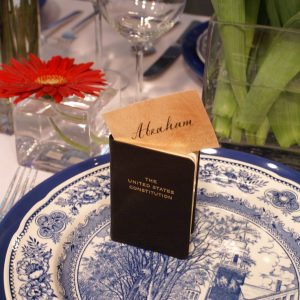 Close up from my camera. I aged the paper (and added a little pop of gold to make everything sparkle under the lights). Wrote in the historic Jane font with black ink! Love the place cards and love the declaration for good design!
Thanks for asking me to participate.