I just loved working on this wedding with 5×7 designs and Julian Lever Events.  There is something magical that happens when you have the best bride and vendors all working together.  The celebration just radiates joy.  And in this case, COLOR!
The Venue
Catharine and David got married at Highland Park United Methodist Church and hosted the reception at Fearing's Restaurant in the Ritz Carlton in Dallas, Texas.  For an April wedding, they chose their stationery and design to have a springy floral burst of color motif.  It was a good choice.
The space is so clean and bright and ready to make a statement with that magnificent chandelier.  Julian Leaver did wonderful job creating an airy space that allowed the florals by Garden Gate to make a statement.  Everything is light and springy feeling without being boring.
The Table
The table top was a work of art with the stunning linens by Nuage Designs, gold flatware, pink tinted glassware and a stunning coral menu created by 5 by 7 designs. The menu tied in the invitation design with the crest on a vellum belly band and gold foil.  I added each guests name in gold calligraphy to the top of each menu.
The Paper
The invitations were also colorful and were a perfect reflection of the event to come.  Clean with color!  I love the green letterpress and gold foil paired together and a super thick paper.  The envelope addressing was completed in a green ink color match using my Dylan script.  This calligraphy hand is really great for a formal event that has a bit of personality.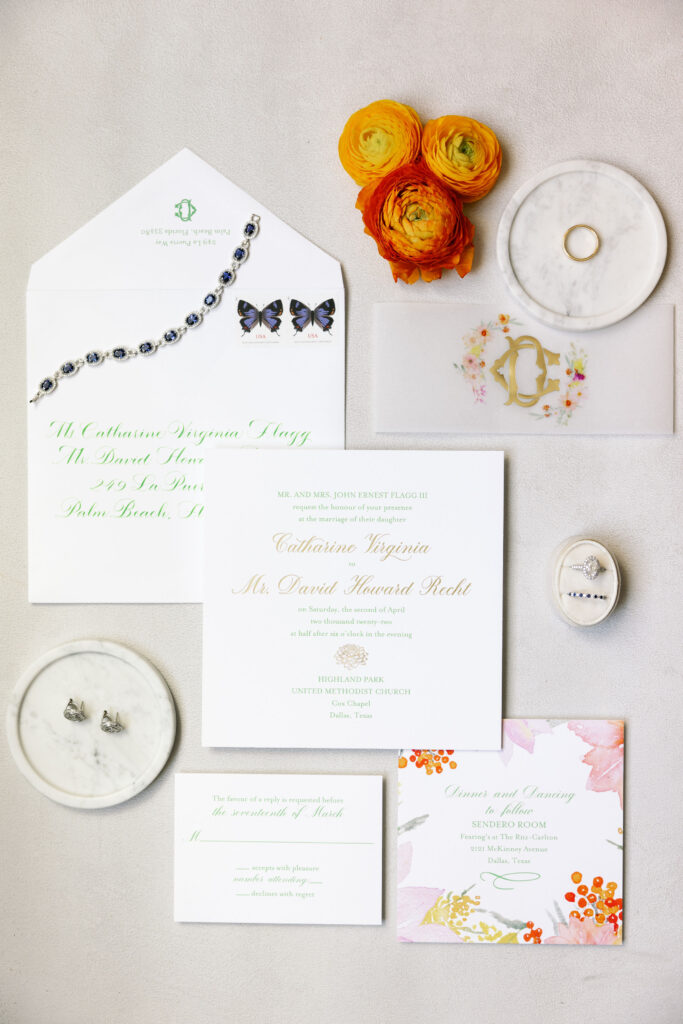 Rounding out the stunning stationery was this epic seating card display.  It was made to look like a field of flowers!  The floral centerpiece is really a work of art that really centers the whole display.  Each card was cut out of the same coral paper used on the menus and foil stamped with a flower design.  I then added guest name calligraphy in gold ink using the Dylan script again. These are my favorite from last spring.  The display is just stunning.
The Amazing Vendor Team:
Photography: Joshua Aull
Planning and Design: Julian Leaver Events
Venue: Fearing's Dallas
Floral: Garden Gate Floral
Linen: Nuage Designs
Transportation: Premier of Dallas
Videography: Redwood Stories
Church: Highland Park United Methodist Church
Entertainment: J Speer Music
Beauty: Maitee Miles
Lighting: LeForce Entertainment
Accommodations: Ritz Carlton Dallas
Stationer: 5 by 7 designs
Calligrapher: The Left Handed Calligrapher
Bridal Retailer: Mockingbird Bridal